Did you miss the $17000 $DYDX airdrop? or $11000$ $PSP airdrop? the $7000 APTOS or 5000$ $OP airdrop? $1INCH or $UNI? Here's another best opportunity to avoid that in the future…
On Oct 28, a governance proposal was passed transitioning Gitcoin Grants from a centralized to a decentralized Protocol version Here is: – What it is – How to get the official POAP – Might make you eligible for future EVM-based
#Airdrops
like
$ARB
,
$ZKS
, etc.
What's Gitcoin protocol and what's the difference? It's a much more decentralized version of Gitcoin grants. Gitcoin protocol will be much more flexible and can be tailored to suit the needs of specific communities, allowing a broader range of projects to be funded.
Why the need for this transition? In their own words: "Gitcoin's impact as a centralized, single point of running quadratic funding rounds was reaching its limit
… Our ability to experiment with new funding mechanisms, and to allow communities to fund their shared needs in a self-sovereign way couldn't scale on our old platform."
Currently, they are running the alpha round to test out the protocol. "Gitcoin Protocol Alpha Tests" is what they call it. There will be 5 rounds in this test season, running from Dec-Feb.
Timeline:
Unicef Round: Dec 9 – Dec 21
Fantom Round: Dec 12 – Jan 2
Gitcoin Round (GR16): Jan 17 – Jan 31
Optimism Round: Jan 31 – Feb 10
Alchemix Round: Feb [Exact dates TBA]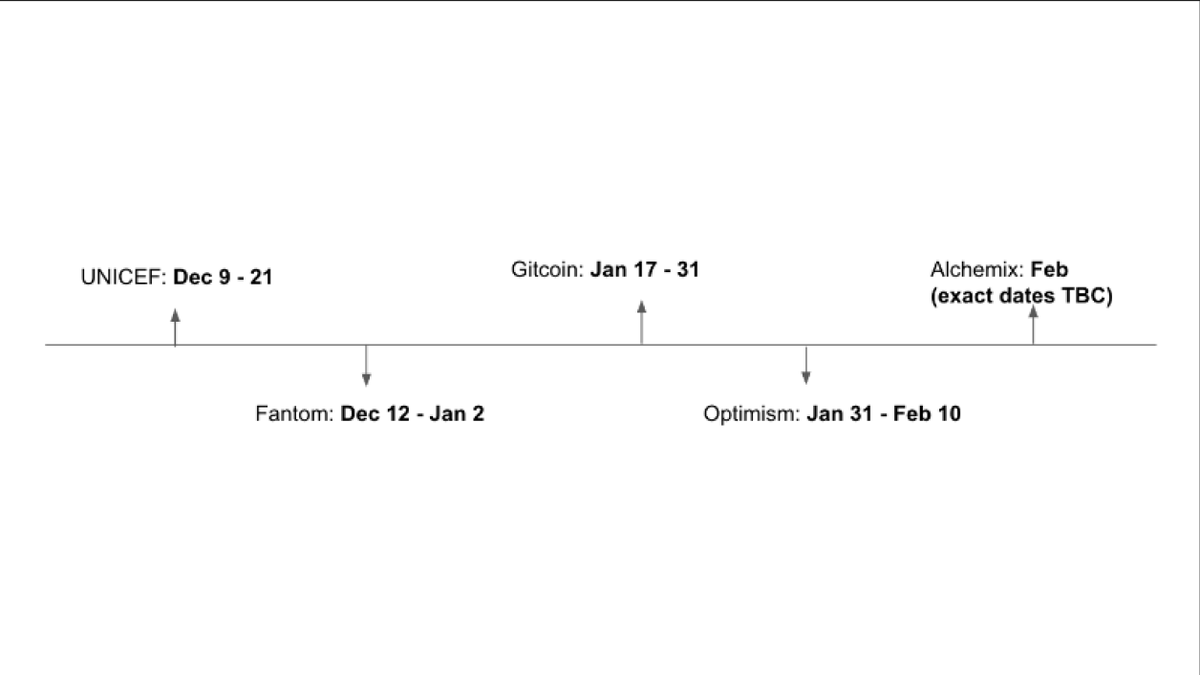 We can participate in the Unicef and Fantom rounds as of now. Now, participating in it is yours to decide. Just one thing I want to point out to you is that most of the airdrops these days include Gitcoin donations as one of their eligibility criteria, mostly EVM-based projects.
Also, trying out newly developed protocols at the early stages has its own
#Airdrops
benefits, not to forget the 5 official Gitcoin POAP you can collect by participating in these rounds.
About the POAP: – They will have 5 unique POAPs for the 5 different rounds – You will get it for participating in each round – The mint link will be published 14 days after each round ends
Now that you have done your research and wish to continue, you can scroll down and follow the guide, demonstrating participation in the Unicef Round.
Guide:
9. Submit your donation and confirm the transaction.
10. Done, you can follow the same for the fantom round here:
bit.ly/3j7EImr
But this will be on Fantom Network.
• Gitcoin Grants Round 16 is expected to run from Jan 17-31 of 2023.
• Soon after that, the Optimism
$OP
round will be conducted followed by Alchemix Round in Feb.
Website / Blockchain Dev. | Web3 Sensei | Defi Preacher | Digital nomad | Fisher of men | Dad 😉😉😊😊
#airidrops
#arb
#Arbitrum Mainnet
#op
#ZKS